About Us
The right story is a company's most powerful marketing tool.
At Mad Bear Productions, we are passionate about telling stories that communicate a company's message while creating an emotional connection with the customer.
Please meet some of our team members.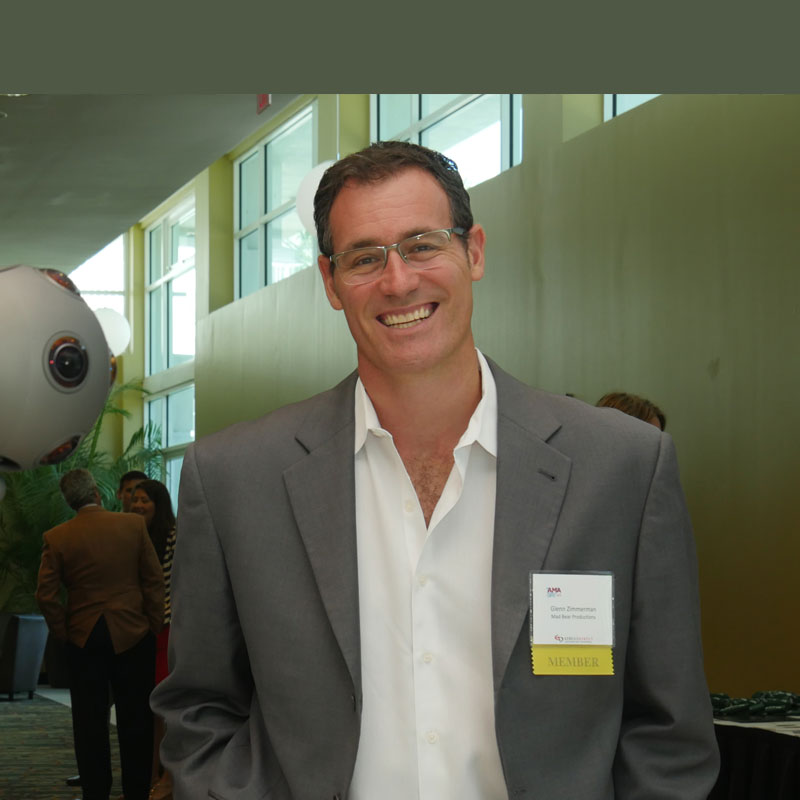 Glenn has what is best described as Superhero Syndrome. His affliction began as a child and has progressed with age.
He got into extreme skiing and extreme sports before they were a thing because every superhero should try flying at least once.While at Boston University, it was his desire to save the day that brought him to Post-Soviet Russia where he explored the emerging homeless population.His syndrome brought him to journalism school at Syracuse University to get an MS in Mass Communications. He later became an award winning reporter at the number one station in Detroit (WXYZ-TV) and with NBC's flagship station in New York (WNBC-TV). And, it was the reason he formed the video agency Mad Bear Productions.
With Mad Bear, he harnesses the power of story to help businesses, non-profits and events connect with their target audience. Video is his tool and he wields it mightily.
Glenn is a sought after speaker on video engagement and mass media. It is all part of his quest to help save the day, one story at a time.


As Director of Photography and co-founder of Mad Bear Productions, all things visual pass before Julian's creative and experienced eyes. He has been capturing the story as it happens from behind the lens for more than fifteen years.
Julian's ability to find the extraordinary in the seemingly mundane is his gift. As both a cameraman and editor, Julian understands the importance of shooting the right material the first time. With a developed love for telling stories and a deep appreciation for being allowed inside the worlds of thousands of people, Julian loves shooting every kind of story.
From Shuttle launches at Cape Canaveral, natural disasters, historic elections, Super Bowls, The Olympics, a World Cup to a royal wedding across the pond; Julian brings his global experience and understanding for the latest technologies and trends to Mad Bear's clientele.
Her name means LIGHT and that is what she is… high energy, bright and fast.
And yes, she does run regularly. While we are not sure what she is running from (perhaps her two young kids) we know she has covered a ton of ground. She was the Executive Producer for an award winning and number one rated morning show in Tampa for years.
And now, she uses her unique blend of organization, storytelling and curiosity in the world around to help Mad Bear clients find their stories.
Think of her as an architect, a story architect.


She believed she could, so she did… literally everything. Heidi Marks is Mad Bear's VP, Creative Director and Director of Video & Broadcast.
Her title could have been a million other things because this creative is in-fact one-in-a-million.
You could call her a creative amphibian with extensive experience in both the journalistic and production realms. As a director in TV she fostered her speed and confidence in split-second decision-making. As the Senior Production Manager at an Advertising agency she developed the chops to tackle any creative project with any size budget.  She is the go-to producer for projects of inconceivable creation and tight timelines.
Her ability to stitch a story together is much like a perfectly choreographed dance. That's because Heidi is also a dance teacher, choreographer, costume designer and seamstress. Heidi is also Mad Bear's Renaissance Woman.
When your name officially becomes a verb it is quite a statement about your talent. And so, when a Mad Bear team member suggests doing something ultra visually cool with graphics or animation, he or she might simply suggest – We "Zazzi" the project.
But being a verb is not Anthony's only claim to fame. He can kick your ass using Brazilian Jujitsu. Lucky for you, he is a pacifist who happens to be an artist and a dad.
His technical ability is matched by his creativity, and years of experience in print, web design, and 3D motion graphics. The result is a prestigeous client list including MTV, Nickelodeon, AMC and studio design houses from Manhattan to LA to Austin.


Danny is a post-production specialist who loves to design graphics and make things come to life on video.
His skills are not just behind a computer creating motion magic. Danny also has a passion for capturing art through photography.
When he's not showing off his artistry, you can find Danny traveling with his family to Disney World in Orlando, enjoying Florida's sunny beaches or binge-watching a TV drama series about kings and dragons fighting over a kingdom.
Andrew Jordan Blum — 3 names to remember when you want to deep dive into video. And no – he doesn't even need a scuba tank.
Andrew is one of those creative anomalies who feels just as comfortable behind the lens as he does at the helm of an edit.
Among his feats of video – for two years, he was director of production on Talking Movies, BBC's flagship cinema review program. He has served as cinematographer on more than 50 long-format BBC television programs and has created content for corporate clients including Trump International, HSBC and Saks Fifth Avenue. Andrew's "Mad" video skills date back to when he studied film at New York University's Tisch School of the Arts.


Bevan loves the word Auteur. It is both provocative and mysterious and while running the risk of sounding cheesy — so is he.
Besides, what more could you ask from the person helping to visualize your story whether it is in the edit suite, behind the lens or in the director's chair.
From Kansas to Mississippi to California this "Human Swiss Army Knife" has spent more than 18 years working in documentary, commercial, corporate and narrative storytelling; exploring the vast possibilities every step of the way. Currently living in the San Francisco Bay area, Bevan continues to work toward "living the dream" in an industry that has constantly fueled his creativity.
Ever wonder how many elements of a video come together into one final image? Mad Bear's Editor and Compositor can tell you how. Chris Rohlfs is a four-time Emmy award-winning professional who has worked all over the country.
Just like a recording engineer is technically responsible for weaving all of the different pieces of music together so that they make sense to the ear, Chris weaves all the visual pieces of a project together so that they make sense to the eye.
He's put his masterful touch on everything from documentaries, episodic television and commercials to short form features and corporate projects. His talents have graced projects on Showtime, National Geographic, FOX Sports, ESPN, ESPN Films, and truly the list goes on.
Chris is passionate about bringing things to life on the screen, but he's most proud of the lives he brought into the world, his kids. Chris is Mad Bear's Master Compositor.


They say the eyes are the windows to the soul. If that is true, Colin Kelly is the Soul Man.
Much of his life has been spent behind the camera, keeping his eyes open for the little details that connect us all.
His experiences have brought him face-to-lens with Presidents and the Kings of sports royalty. With his unique eye Kelly has also brought stories wrought with emotion from the slums of Havana and Jakarta to people around the world. His decades spent in local news turned him into a quick-thinking, production-providing, and quality-obsessed photojournalist.
Kelly has worked with virtually every network including NatGeo, Discovery, Bloomberg, ESPN, the NFL Network and CNN. That is a lot of time spent behind the lens, that is why he is Mad Bear's Soul Man.
So, what does the world look like from 400 feet high? Just ask Patrick "PJ" Cook. He's Mad Bear's Tampa Based Drone Pilot.
PJ's 22 years with the USAF Special Operations makes him a pro and his imagination gives him mad storytelling capabilities.
When he's not "droning" you'll find PJ SCUBA Diving or snapping some awesome pictures.
PJ is like the drones that he pilots. He stays above it all and he does it with a smile.